STOCKPORT HATTERS HALF MARATHON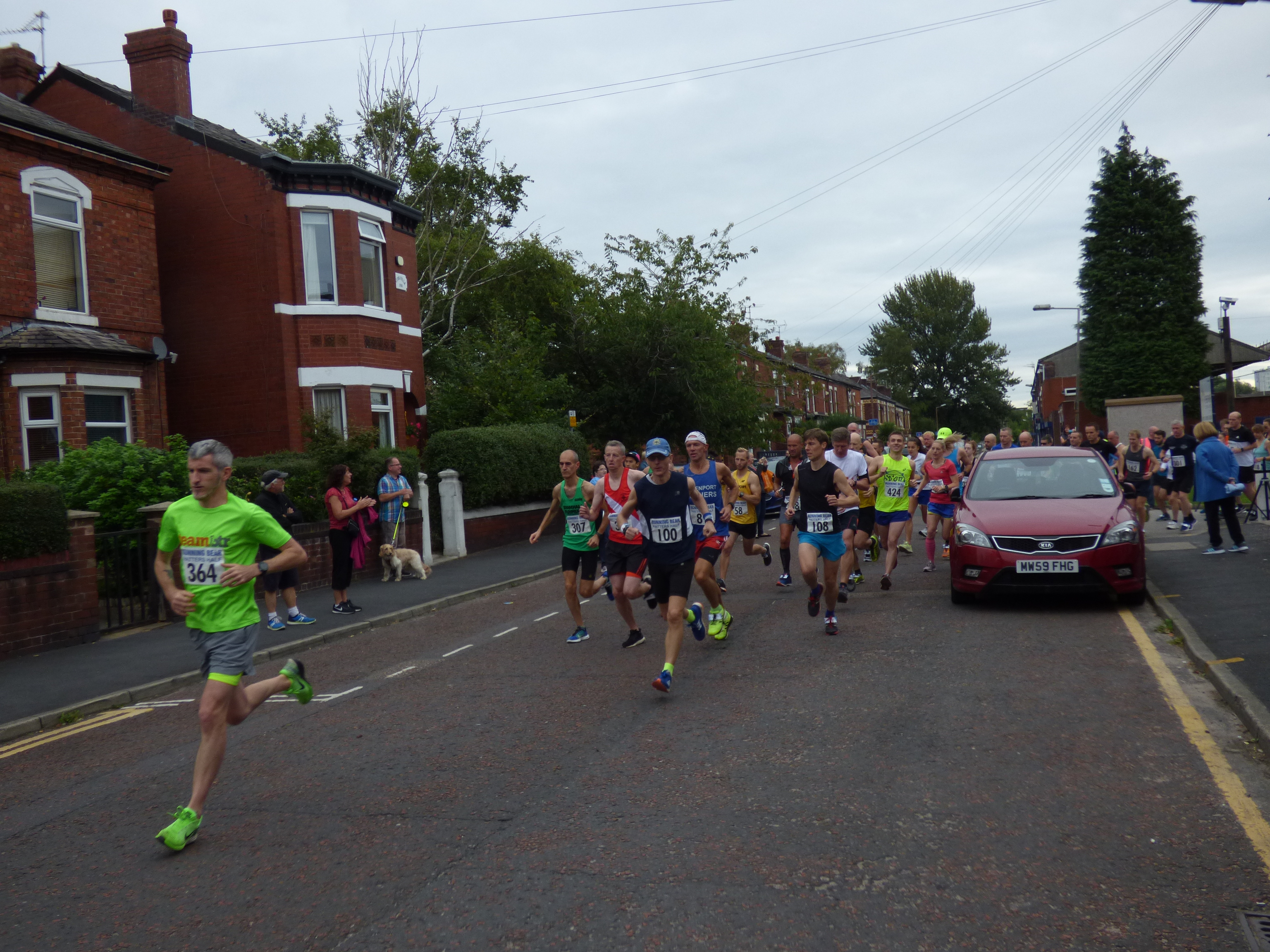 STOCKPORT HATTERS HALF MARATHON
SUNDAY 8 SEPTEMBER 2019 – START 9-30am ( Details to Follow)
The fourth running of Stockport`s showpiece event, the Stockport Hatters Half Marathon, was another resounding success.
The weather was kind to the organisers, Stockport County Supporters Cooperative, which was good with well over 400 signed up to run.
On the day 332 turned out and the overwhelming feed back indicated that the fabulous road/ trail race has lost none of its sparkle and appeal- a massive feather in the cap of live wire Race John Giles.
At the sharp end, of both men`s and women`sraces,terrific struggles unfolded with Salford Harrier Glyn Billington eventually winning the men`s event in a creditable time of 1.18.11. Billington led pretty much from gun to tape, butnever had a massive gap over second placedunattached runner Anthony Taylor who pressed him hard all the way round the course ,clocking 1.18.39 in second place. Unattached runner Matthew Devlin was third in 1.20.10 ahead another unattached athlete of Ian Itchworthy in fourth.

If the men's race was a hard fought affair, the women`s equivalent was no less so with a mere 19 seconds separating winner and second placed athletes, Sarah Black-Smith of Thunder Runners taking the honours stopping the clock in a tasty 1.32.12, ahead of Catriona Walsh who was timed in at 1.32.31. Stockport Harrier Samantha Thomas expressed herself as delighted having clocked 1.35.06 to take third spot. Joanne Street of Sale came fourth.

The veterans prizes were decided as follows:-
MV40- Mark Collier 1.21.03( Mark was 5th overall- a fine achievement)
MV45- James McDonald 1.26.29 ( 12th overall)
MV50- Andy Porter 1.22.36 ( 7th overall)
MV55- Martyn Lundy- 1.41.52
MV60- Duncan Shuttleworth – 1.41.52
MV65- David Hewitt – 2.13.00
FV40 -Michelle Carter- 1.48.10
FV45- Tracey Blanchard- 1.57.32
FV50-Margaret Hammersley- 1.57.56
FV55- Sheila Paice- 1.59.51
FV60- Kathrinne Kingsley- 2.11.34
Full 2018 race results here::::::::::;
https://www.dropbox.com/home/Hatters Half Mara...
View the 2018 race video, by David Wright Media Services at.......
https://www.youtube.com/watch?v=U36IcweAvck

TERMS AND CONDITIONS
Event Rules and Guidelines
All entry fees are non-refundable and Stockport 'Hatters' Half Marathon retains the right to refuse entry to anyone declaring false information on their entry form, not making the required payment, or otherwise failing to meet the stated entry requirements.
Participation
1. An email address is required for all entries. All correspondence will be via email.
2. To register for the half marathon you must be 17 years of age or older on event day.
3. Each participant must agree to the disclaimer and Terms & Conditions before participating in the event.
4. All participants take part at their own risk and a disclaimer waiving all claims against Stockport 'Hatters' Half Marathon.
5. Registrants must be capable of completing the full distance, start line to finish line, within the event time requirement of 2 hours 45 minutes.
6. The event time requirement and age minimum apply to all forms of entry and event participation.
7. All participants must provide their full name and details of any health problems or medication on the reverse of their race number.
8. By taking part, all participants confirm that they are happy for their names and any footage or photographs taken during their participation to be used to publicise the Stockport 'Hatters' Half Marathon.
9. Participant race numbers are specific personal identifiers and may not be exchanged with or transferred/ sold to any other person. Transfers between runners can only be done through the Race Director – email johngiles20@hotmail.com. Sale and / or transfer of race entries are strictly prohibited and will result in the disqualification and/or banning of any individuals involved from future events.
10. All entry fees are non-refundable, even in the unlikely event of race cancellation. The Stockport County Supporters Co-operative cannot be responsible for any consequential losses, in the event of the event being cancelled.
11. Registration closure is determined and announced when event participation reaches the established capacity.
12. Participants must not wear ipods or music players. There are road sections on the course which are not closed to traffic. Furthermore there are a number of major road crossings and participants will need to take instruction from our marshals and Traffic Management Team.
13. Retirements – all participants that are injured or retire from the race must inform a marshal and advise their name and number. The race organisers need to account for the safety of all our participants.
DISCLAIMER
In order to run in the Stockport 'Hatters' Half Marathon runners agree the following disclaimer and to the Terms & Conditions:
I declare I will abide by the age limits set for the event and will abide by the laws and rules of England Athletics. I declare that I will not compete in the race unless I am medically fit on the day of the race and that, in any event, I will compete at my own risk. I accept that the organisers, sponsors, partners, marshals will not be liable for any loss, damage, action, claim, costs or expenses, which may arise in consequence of my participation of the event. I also hereby give my permission to Stockport 'Hatters' Half Marathon to use my name, quotes, video and photographic likeness for marketing and promotional purposes.
I also understand that entry fees are non refundable, even in the event of cancellation of the race.
Statement of Course Measurement.
This can be viewed via this link
https://app.box.com/s/lo08or109c2ektgdfcnrj6ccrd4e...

The Hatters Half Marathon 2018, is proud to be able to confirm the valuable support of the following businesses…
Firstly, and our major source of support is long time Stockport County sponsor, Parfetts Cash & Carry.

Parfetts are renowned amongst retailers and caterers throughout the North West, as the region's foremost independent cash & carry.
The company supplies a comprehensive range of food, drink and tobacco lines, whilst achieving standards of quality, value and service that are unrivalled in the industry. This dedicated approach has ensured that Parfetts has grown steadily since it was first founded in Stockport in 1980. Now, three decades later, the company also has branches in Halifax, Somercotes, Sheffield and two Merseyside depots in Aintree and Anfield.
The company structure underwent a major change in 2008, moving towards becoming an employee owned business, with 55% of the shares sold by the Parfett family to the Employee Ownership Trust on behalf of all the staff. The Trust have since bought the remaining 45% of the shares and achieved their aim of Parfetts becoming fully employee-owned.
Further details on Parfetts here…..
http://www.parfetts.co.uk/about-us/store/stockport
We are also grateful for the valued support of Alderley Edge based Running Bear.

Situated in the centre of Alderley Edge, Running Bear is ideally placed for runners to take advantage of the great trails that run over the Edge and beyond. There are plenty of good family friendly cafes in the village within easy reach of the shop. There is a car park opposite the shop.

Now in our 26th year they have accumulated knowledge of any problem areas you may encounter, and are able to offer guidance on; injury prevention, training guidelines, nutrition, suitable clothing and footwear.
Running Bear are stockists of shoes and clothing by Nike, Asics, Saucony, Innov8, Brooks and many more, and further details can be accessed here…..
http://www.runningbear.co.uk/about-running-bear
We are also joined by thriving young Stockport company Focused Nutrition of Vaughan Rd
Stockport, SK4 2PQ
http://www.focused-nutrition.com/
The Focused Nutrition web site ( linked above)offers advice on nutrition , weight management and much more.

Focused Nutrition were one of the earliest health food retailers in the region, as well as being one of the first companies to work with the National Health Service system here in the UK providing healthy option food choices within the region's hospitals and teaching universities for all, patients, visitors and staff on site.
We are very pleased to welcome all our supporters from the business world on board for the Hatters Half Marathon 2018.